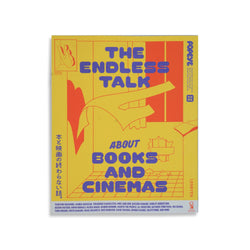 Magazine House Ltd.
Popeye Magazine - "A never-ending story of books and movies." - Special Edition
"From the time of the POPEYE renewal in June 2012 to April 2022, the serial project "Book and Movie Story" continued for 10 years and 120 times.
The last 60 episodes from June 2017 to the final episode have been compiled into one volume.

Musicians, cartoonists, designers, photographers, architects, and other people from all walks of life talk about their favorite books and movies so much that they can't stop talking.

Works that have had a big impact on my life, works that have changed the way I see things, hot works that I have touched recently, and works that I definitely want readers to see... The work he gave me seemed to tell the story of the person himself.

In addition, as new content, "The story of a deserted island book and a deserted island movie" is also included. As a guidebook for finding books to read and movies to watch.
Or as a collection of interviews with 60 celebrities.

It is a book that will accompany you on your journey to encounter books and movies that you have not seen yet."
Language: Japanese 
Origin: Japan 
Theme: Men's Fashion, Culture, Styling