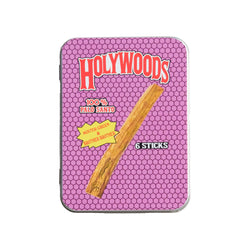 Palo Santo - BB x Mister Green - Holywoods
It was only a matter of time...our first collaborative palo santo tin! Made in collaboration with Mister Green.
Palo Santo or "Holy Wood" when burnt releases a sweet, woodsy, fragrance.
Ignite one end of the stick holding at 45 degree angle, allow to burn for 10-15 seconds before blowing out and allow to smolder.
Each tin contains 6 sustainably harvested sticks.
Limited Edition, so we probably won't make these again...but they came out kinda rad so maybe we run it back? idk, ask Mister Green.