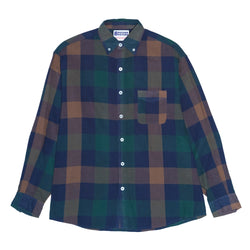 Brother Brother Simple Stitch BD Shirt
The BB Simple Stitch BD Shirt is back this time in crafted from lightweight loose weave cotton plaid perfect for summer months aheads.

The button-down collar and single chest pocket give the shirt a classic, timeless feel and look.

Its true-to-size fit makes it a versatile option that can be dressed up or down depending on the occasion. Or just wear it open and let that thing breeze through your undershirt.