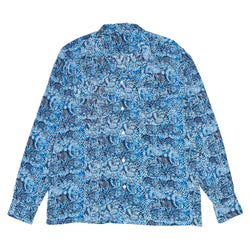 Brother Brother LS Camp Collar
Long sleeve camp collar in an all over blue snakeskin rayon. 
Cut generously for a fuller fit, this style shirt looks better when worn blousier. (way better than the stuffy, slim fitting shirts your ex's new partner wears)
2 chest pockets with flap closures.
Polished shell button detailing at front and cuffs.

Take the same size as you would your shop tee.